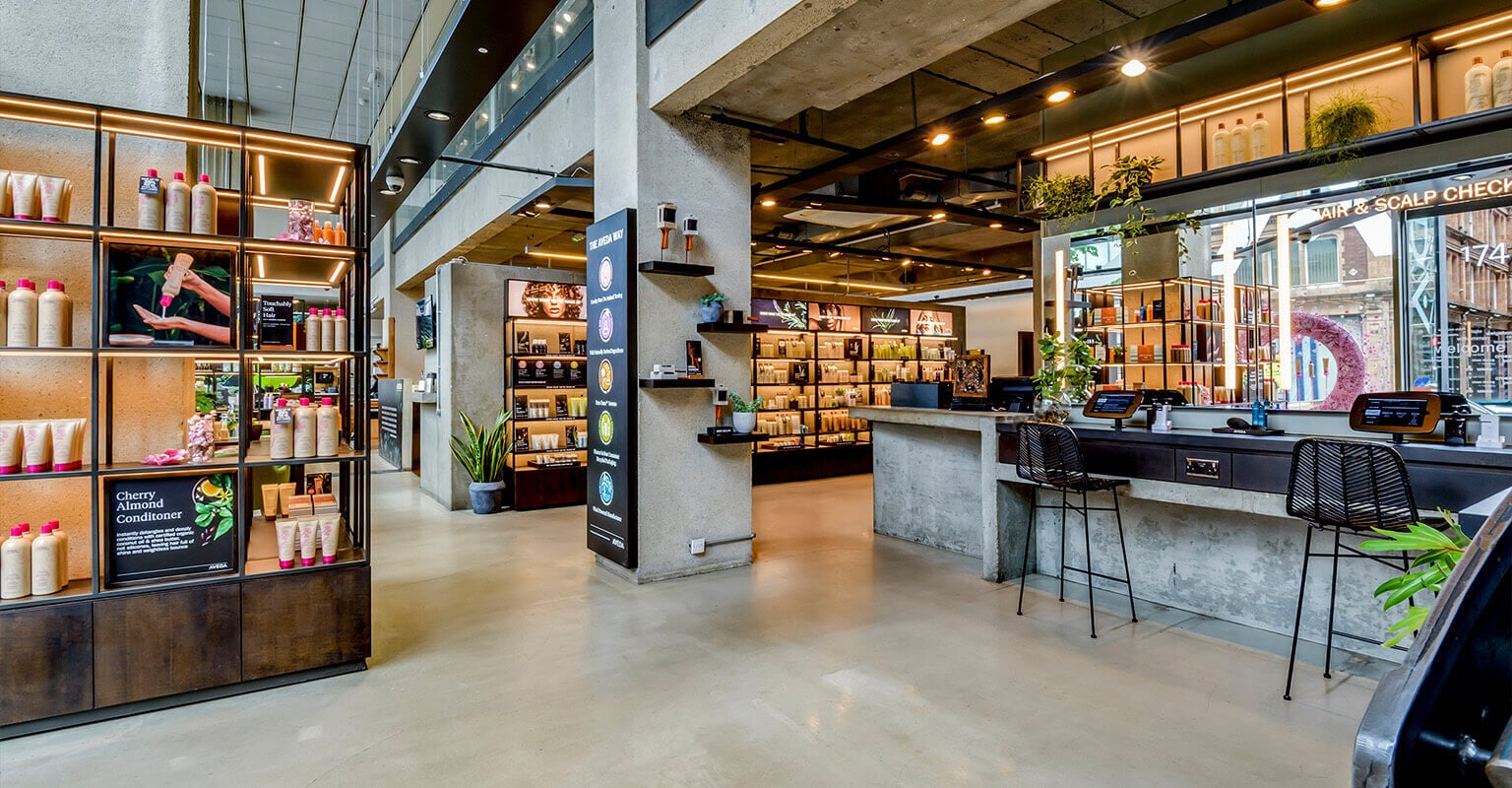 Step inside our Aveda Lifestyle Salon & Spa
Established in 2001, the Aveda Lifestyle Salon & Spa has become one of London's most prestigious salons and is based in the heart of Covent Garden.
With over 70 hair and beauty experts, our philosophy of nurturing and developing creative talent has made the Aveda Lifestyle Salon & Spa into the place it is today. From the way the interior is designed to the services themselves, the Aveda Lifestyle Salon & Spa continues to be the go-to salon for exceptional hair and beauty treatments, which take their environmental impact into consideration.
The Aveda Covent Garden Lifestyle Salon & Spa is the perfect place to experience what Aveda is all about – an extension of the brand values we pride ourselves on, such as caring for the world we live in and using the power of plants to create high-performance products and services.
We are proud to have a team of professional hair stylists and colourists who are highly experienced in working with all hair types and textures, located within walking distance of Covent Garden, Holborn, and Tottenham Court Road underground stations. After a thorough consultation with your hairdresser, enjoy a stress relieving scalp and shoulder massage before your appointment and your talented hair expert will create a look that caters for you and your lifestyle. Or visit our spa and renew your sense of well-being with a variety of spa treatments and services including bespoke facials, massage, waxing, manicures, and pedicures.
As you step inside this central London salon, you'll notice the Aveda Lifestyle Salon & Spa's unique look, which features reused wood sourced from Canadian riverbeds; and enjoy the bright spacious feel of this Covent Garden salon which offers an uplifting environment.
At Aveda we recognise the importance of privacy for your appointment. Therefore, we are pleased to be able to welcome guests to our newly opened, Privacy Suite where guests can relax and leave feeling amazing. Designed to ensure that our Flagship Salon is Hijab-friendly, the Privacy Suite is the perfect space for guests with covered hair to enjoy their AVEDA service in the comfort of a private space.
In addition, we also look forward to offering the Privacy Suite to provide the best possible service for guests with reduced mobility with step-free access, and for those who require additional privacy throughout their appointment.
Has our Aveda Covent Garden Salon tempted you to a new look? You will be pleased to know that booking has never been easier! You can download our mobile booking app by searching 'Aveda Covent Garden' in your app store. Alternatively, you can book online, call us 020 7759 7355, or visit us and ask at reception.
Opening hours
Monday 8:00 AM - 7:00 PM
Tuesday 8:00 AM - 7:00 PM
Wednesday 8:00 AM - 8:00 PM
Thursday 8:00 AM - 8:00 PM
Friday 8:00 AM - 8:00 PM
Saturday 8:00 AM - 6:30 PM
Sunday CLOSED