What's happening at your Lifestyle Salon & Spa this month?
From exclusive events and special offers to pro tips and the latest trends, we've put everything you need to know in one place.
---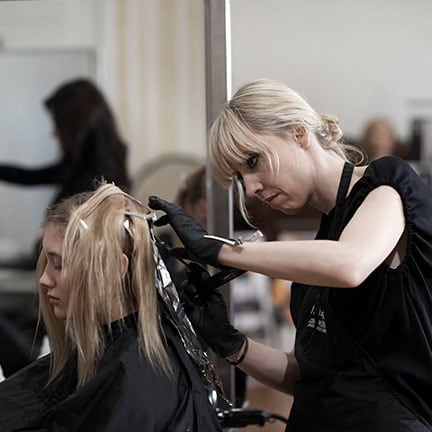 BOOK IN WITH GUEST COLOURIST
Hair colour in need of a refresh? With 28 years' experience in hairdressing, Global Art Director Jo Mckay has been part of the Aveda team for the last 17 years.
We're excited to announce Jo a guest colourist here at the Aveda Lifestyle Salon & Spa.
As well as offering inspirational and technical skill building to salons, Jo has played a key role in the creation of Aveda Collections, which sets the trends for the season, travelling around the world to teach classes and particpate in shows.
Jo also works on her own collections and has done work for magazines, short films and theatre.
Book with Jo online or call us on 0207 759 7355
What's happening?
We've teamed up with cruelty-free beauty brand BECCA to offer you a complimentary make up service when you book in for a blow dry (with Instant Shine Treatment) at the Aveda Lifestyle Salon & Spa in Covent Garden, London. You'll leave with salon-fresh hair and a beautiful-looking glow. Perfect if you're heading off to a Christmas party or festive night out.
When can I go?
Every Thursday, Friday and Saturday until Saturday 21st December. Please book in advance to avoid disappointment.
How much is it?
The price of your blow dry is £50.00 (this includes an Instant Shine Treatment). Your BECCA glow up is complimentary.
How do I book?
Call the Aveda Lifestyle Salon & Spa on 020 7759 7355 or head to our online booking tool and search for Glow Dry.